Welcome to ACMAC Martial Arts Schools
Where Excellence comes as Standard
Home of World & European Champions - Doncaster Sports Team of the Year 2012 & 2015
CONFIDENCE - FITNESS - SELF DEFENCE - DISCIPLINE - RESPECT - INDOMITABLE SPIRIT
Our Professional Instructor Team run 30 classes a week at our full time Head Quarters in Balby and in addition at

our Schools in
Dunscroft, Bentley Rossington, Bawtry

Come along for a FREE TRIAL class and start seeing the benefits of training in Martial Arts
or call 01302 858335 for more information.
Check out our Facebook Pages to keep upto date with what we are upto
https://www.facebook.com/acmacmartialarts/ - https://www.facebook.com/acmacbalby
https://www.facebook.com/acmac.dunscroft - https://www.facebook.com/AcmacRossington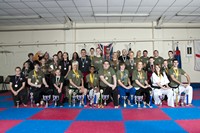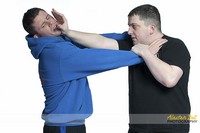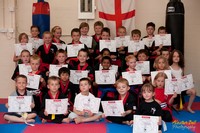 FOR KIDS
Kids Multi Skilled Martial Arts (7-12 years) - Little Dragons (5-6 years)
Plus Ju-Jitsu - Sport Sword - Forms & Weapons - Leadership Training (For Advanced Students)
FOR TEENS & ADULTS
Multi Skilled Martial Arts - Kick Boxing - SDF Modern Street Combat - Tae Kwon Do - Grappling - Fitness Kick Boxing
ACMAC Martial Arts Schools are a Professionally run Family Martial Arts School teaching Men, Women and Children since 2003, however our Instructor's and teaching methods have been around a lot longer.
We offer classes 5 Nights a week and Saturday's in our 6 Locations throughout Doncaster taught by our Chief Instructor Andy Crittenden and our Team of Black Belt Instructors who are constantly learning and improving in order to give our members the best possible service.
Our classes are suitable for anyone over the age of 5 and we have students in their 60's. We have a Little Dragons program for 5 & 6 year olds as well our Junior Multi Skilled Martial Arts program which is as much about Life Skills and Mental benefits as the Physical Aspects of the Martial Arts. Our Junior Students all have increased Confidence, Discipline and Respect.
For Adult Students we offer a variety of classes, we offer Kick Boxing, Self Defence and Grappling classes or for those who are interested in all 3 and want an all round Martial Arts system to train in there is the Adults Multi Skilled Martial Arts program which as well as Kick Boxing, Self Defence and Grappling also incorporates Ju-Jitsu, Weapons Training, Tae Kwon Do and more.
We are members of many prestigious Martial Arts & Business groups including Revolution Martial Arts, WKKC England, The All Styles Martial Arts Association, WTKA Great Britain, Self Defence Federation, Scientific Wrestling & Native American Warrior Arts. In addition our Instructor's teach in various Schools in the Doncaster Area.
Our Students are taught the value of Goal Setting from the start of their training and most of them go on to achieve their goals whatever they may be. We are a Black Belt School which means we look at every new student as a potential future Black Belt however we do not believe this is a quick fix and we value our training to Black Belt very highly, all our Black Belts are Dedicated, Motivated, Confident, Fit and Capable of Defending themselves.
One thing we really pride ourselves on is great value for money, we wont be beaten on price.
Come along for a FREE trial class and start setting your goals now. Remember a Black Belt is a White Belt that Never Gave Up.
For more information or to book a FREE Trial class for you or your family call (01302) 858335.