News & Results
February & March UK/Ireland Tournaments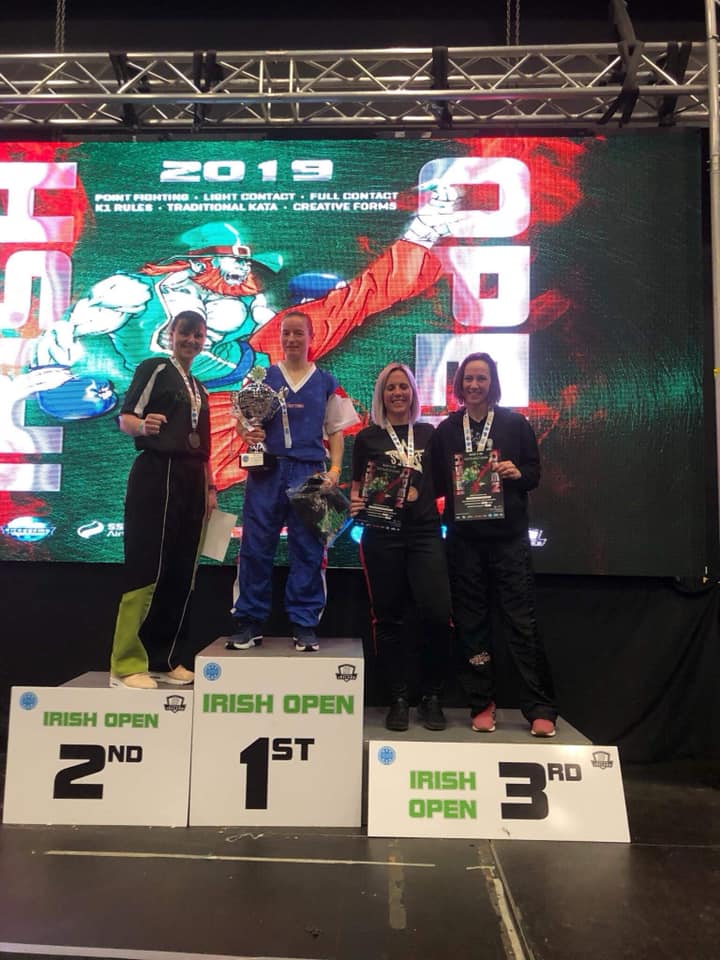 WAKO BRITISH OPEN
We had a small but strong Team at the WAKO British Open in Nottingham, Saturday was Continuous & Sunday was Points. We came away with a good medal haul but just Silver & Bronze this time.
Silvers went to Bailey, Paris & Andy, Bronze to Paris, George, Joe, Olivia, Sarah & Kieron.
REVOLUTION ENGLISH CHAMPIONSHIPS
We had a big Team go to Worksop for the Revolution English Championships and it was very successful with us winning 28 Gold, 23 Silver & 21 Bronze. We won across all disciplines Points, Continuous, Patterns, Forms, Weapon Forms & Sport Sword.
Tiff & George won 3 Golds each, 1 of Tiff's was the Black Belt Challenge, the first time we did it, basically an Open Weight Adult section of all medal winners.
Max, Alex N, Andy T & Lee took 2 Golds and Sienna, Faith, Millie-Leigh, Sarah H, Kelly, Dean, Joe C, Oscar, Harrison, Sophie, George S, Jensen, Steve Jones & Laura Rippon all contributed with 1 Gold.
It was a great event for everyone and lots of new guys coming through.
Well done everyone and thanks to all our Officials.
IRISH OPEN
We had a Team travel to Dublin for the World Biggest Tournament the Irish Open.
Huge congrats to Sarah Illingworth, James Revill, Paris Slater, Lee Cutsforth, Stephen Jones & Sarah Hyslop for taking part in the Irish Open. A special mention to Sarah Hyslop for bringing home a Silver medal. Its tough to get anything over there as we are not WAKO and the style doesnt suit us. Hold your heads high. As well as the fighters well done Darren for leading the team, he said he would get someone on the podium one day and also to Joanne for sorting all the entries.
WKKC ENGLISH CHAMPIONSHIPS
We had an amazing day at the WKKC National Championships in Bradford winning 12 Gold, 8 Silver & 12 Bronze. Here is our medal tally.
Gold
Tiff (Points & Continuous)
Bailey (Points & Continuous)
George (Points & Continuous)
Kelly (Points & Continuous)
Max (Forms & Weapon Forms)
Kieron (Continuous)
Oscar (Forms)
Silver
Sarah H (Points)
Oscar (Continuous)
Joe (Continuous)
Olivia (Points)
David (Points)
Cieran (Patterns)
James (Points)
Micheala (Points)
Bronze
Jon G (Points & Continuous)
Steve Jones (Points & Continuous)
Jakub (Points & Continuous)
Olivia (Continuous)
Oscar (Points)
Joe (Points)
Cieran (Points)
Kieron (Points)
Wayne (Points)
It was a fantastic Team performance that was beyond our expectations, we were down on numbers as many of our regular and most successful competitors are having a year out of Competition. But this team absolutely smashed it and we saw lots of progress from previous years and goals achieved.
Kelly, George, Tiff, Max & Bailey all won Double which is fantastic. Everyone who competed won a medal and earned the right to represent WKKC England in the World Championships in Niagara Falls in November.
Max made the Forms Grand Championship and placed high up in the event which had 17 competitors of all ages and doing different Disciplines.
Tiff & Bailey entered the Women's & Men's Grands after winning the lightest and youngest section of those eligible to take part. Bailey made the Semi Final and Tiff made it to the final losing out in over time.
As well as those on the mat we as always have a strong team off the mat as well.
Our support team is fantastic, many stayed to the end and watched the Grands. Parents & Families were supportive all day.
Also we had Darren, Joanne, James, Wayne, Jayne, George, Kieron, Dean, Lucy & Tiff helping set up the event on the Saturday.
Then on the day we had Darren Revill, Nat Loy, Jade Humphries, Paris Slater, Dean Mitchell, Aidan Hughes, Wayne Emsley, Sarah Hyslop & Stephen Jones refereeing, Kenny Hughes, Wendy Hughes, Joanne Revill, Abby Townsend, Luke Cartwright, Sarah Richardson & Micheala Hempstock doing tables, Lucy Crittenden, Kelly Ashbridge, Tiff Richardson, Joanne Revill & Jayne Emsley on registration desks.
Plus our awesome coaches lead by Hayden Lindley & Lucy Crittenden plus the others who jumped on when not Fighting. Not forgetting Jayne Emsley who works tirelessly taking photographs of everyone.
It was a very special day, one i will remember for a long time. Niagara Falls here we come